Are you a TU Delft student or researcher? Picture yourself in the following situation. You are sitting behind your desk in your home study and you just discovered a marvelous article that you would like to use in your research. But unfortunately when you tried reading the full text you hit a paywall that prevents you from downloading the article, help!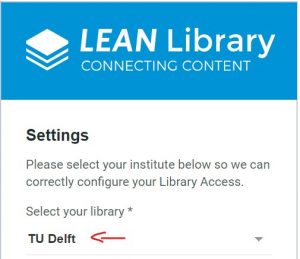 Comes to the rescue: the Library. You can either set up a VPN connection to the TU Delft campus network, or you can click the 'Library Access' button in your browser. Both need a little bit of preparation, as explained on the Library website. But once installed, 'Library Access' will prompt you to enter your credentials (NetID/password) and you will have access to all the resources the Library has subscribed to, for the remainder of the session.
In short:
• You find an article or e-resource licensed by the TU Delft Library
• Your browser extension redirects to TU Delft login page and you fill in your credentials
• You have instant access to the resource
'Library Access' started off as a tool that provided access to subscribed resources, but more functionality is added since. If the article that you have selected is not part of one of the subscribed resources we will offer you an alternative. The tool checks if the article is available via legal alternatives to paywalls including Open Access. Furthermore you can order the article through TU Delft Library's Interlibrary Loan (ILL) service. No costs involved for TU Delft researchers.
Either way, the Library will help you to find the full text of the article as soon as possible!
Find more information about alternative access? Check out 'Get the PDF'.
Library Access is a product from Lean Library, a Sage Publishing Company. The Library Access tool is now available for all major browsers.
Any questions? Please leave a reply or send an email to researchsupport@tudelft.nl.